1-800 Contacts makes in easy for anyone to order contacts online. Just a few clicks of your mouse and you can have your contact lenses sent right to your door. Not only does this save you time, but it also saves you money. They guarantee that they will beat any price on contact lenses by at least 2%.
As awesome as it is to be able to order contacts online, we're a world that relies on mobile technology. On a mobile device, a traditional website can be a bit of a challenge to navigate. Everything on the page is all tiny, and tapping tiny buttons with our built-in stylus (ie: Fingers) can be a bit difficult.
Lucky for us, the fine folks at 1-800 Contacts have got us covered. If you want to save money on your contact lenses, there most certainly is an App for that.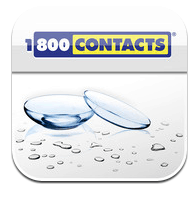 The 1-800 Contacts App is an innovative contact lens shopping experience. With just 3 taps, you can order contact lens and have them shipped your way.
What else can you do in 3 taps? I don't even think you can make a phone call on the iPhone in 3 taps. But you can order contacts?
That's pretty rad.
And I don't know about you, but I believe the general consensus is that rad things are good.
Do you know what else is rad?
For a limited time, anyone who downloads the App and places an order from within in the app gets free shipping. That's free shipping on your contacts, with no minimum purchase, and regardless of the contacts, you purchase.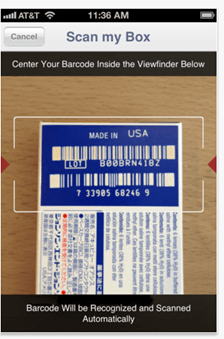 One of the coolest things about the 1-800 Contacts App is that you can scan the barcode of the box your contacts came in. This ensures you are ordering exactly want you want. This eliminates the possibility of ordering the wrong contacts because you selected the wrong ones, or the names were very similar. Just point your camera at your barcode and the app will walk you through the rest.
And you thought you're the camera in your iPhone was just to take myspace pictures of yourself in the bathroom mirror?
What…. You don't use myspace?
Oh… and the iPhone has a front facing camera?
Total nerd-fail on my behalf. How will I ever be allowed back at a sci-fi convention ever again.
Just kidding… I totally don't go to sci-fi conventions. Just electronics, nursing, blogging… well honestly, I think I go to all conventions. So scratch that. It's not that I don't go to sci-fi conventions, it's that I haven't been to one.
Where were we?
Ah yes, the radness of the 1-800 Contacts App.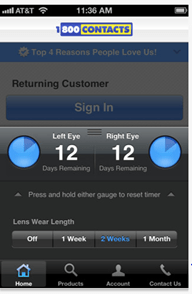 Another cool thing the 1-800 Contacts App. does  is help you keep track of how many contacts you have left. This is awesome when you're not near your supply and remember that you probably need to order more. Just pull out our iPhone, launch the app, and you'll find out
When you think about ordering contacts, sometimes you aren't near your supply. Our attention spans are growing shorter and shorter. If you're anything like me, you pretty much have to complete a task right when you think about it, or else said task will likely not get completed.
And don't try to pretend you're just an awesome time-manager. I'm a nurse! I live and breathe time management.
The description of this app alone makes me want to use it. I also think I want t call 1-800-Contacts just to hear the adorable Utah accents.
I mean, who knew Utah had an accent. And on top of that, who knew it would be adorable?
The internet is just full of knowledge!
But I'm curious, so I have a few questions for you:
Do you wear contacts?
How do you order your contact lenses?
Do you dig the idea of order your contacts through an App with 3 taps?
This post contains sponsored content. Opinions stated are my own.
(Visited 403 times, 1 visits today)