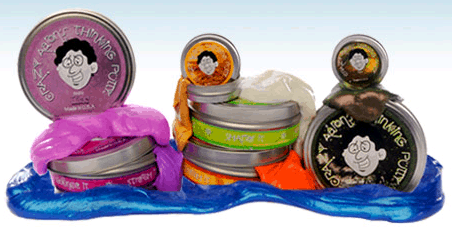 I am guilty of playing with my child's toys.
Some of the best times are getting down on the floor and playing with Legos or RC cars. Play dough and silly putty are still a year are so off for us. Our preschooler can't quite handle these substances without making disastrous messes… and sometimes I think that is his primary objective.
But luckily, as the mommy, I get the opportunity to buy my own toys every now and then. And even though I adore all things tech and couldn't live without my iPhone, there are times when I need a "toy" a little more squishy.
So what's an adult to do? Silly Putty is just a little… well too silly. Why? It's a tiny portion. I'm a grown-up lady. I need a mammoth portion of the squishy material. Luckily there's Thinking Putty.
What is Thinking Putty?
I'm glad you ask because I was going to tell you anyways. The fact that you want to know means I get to share with you rather than force the information down your throat. And that just seems nicer.
Thinking Putty is like Silly Putty for grown-ups.
With over 30 amazing colors, this is one ball of fun as a toy, stress ball, or therapy putty

Thinking Putty is non-toxic and non-gooey, it is the ultimate toy for kids and adults
Available in super Illusions, Putty Creatures, Glow in the Darks, Heat Sensitive's and more!
Thinking Putty can bounce, shatter, and stretch; Great for science and learning at home or school
Thinking putty can be used in the office for stress relief or during creative brainstorming

Can be used as therapy putty to assist with fine motor skills, arthritis, ligament injuries, etc.
At this very moment, my personal can of Thinking Putty has seemed to have found itself a new home on one of my coworker's desks. When I showed it to her, she thought it was the greatest thing stating "This would make the BEST stress ball!" Since I'm just so nice, I decided to gift it to her. I guess that means I'll have to pick up another can of Thinking Putty for myself.
Available via Amazon: Crazy Aaron's Thinking Putty 3.2oz (Includes super strong magnet)
(Visited 283 times, 1 visits today)