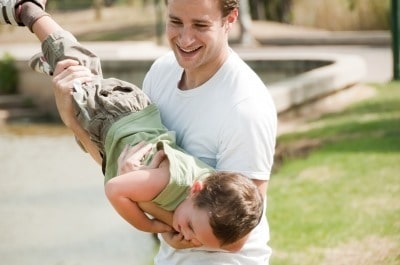 Father's Day is just around the corner, which often brings about fond memories of fishing trips and little league. However, some Americans do not have a memory for times spent with their father. This issue isn't experienced by a small sector of the population. According to an article by Dr. Janet Taylor the United States Census Bureau found that 24 million children in America (that's one out of every three) currently live in homes where a biological father is not part of their life.
Why are so many biological fathers absent in the lives of their children?
Is it guilt, shame, or embarrassment? Perhaps some fathers don't even realize they have a child and are living completely oblivious to the fact that someone, somewhere, wants to know who they are.
Any number of factors can cause this distance, but some of the more common reasons, according to Dr. Taylor, are the fear of disappointment, poor finances, and relationship issues.
Fear of Disappointment
Both children and fathers may be apprehensive to seek out each other. The child may have been told negative stories about his or her biological father and might be afraid that the father would not want to be in their life. On the other side of the coin, many biological fathers are afraid they will be a disappointment to their children. These fears can cause both parties to hold off a search for years and sometimes their entire life. This emptiness can easily be filled if both parties overcome their fears of disappointment.
Finances Situations
Many biological fathers may be afraid that their financial situation is not impressive enough for their child. They might spend years waiting for the next promotion or for the time when they can buy a house, a car, or anything else that might impress their child. Even if they know who their child is, they might not make the effort to spend time with them because they fear they cannot provide the things the child wants or needs.
If the father is unsure of the child's paternity, they might fear that DNA testing is expensive and difficult to achieve. Fortunately, DNA testing is more accessible and affordable than ever before. Identigene is a DNA Paternity test that is available over the counter at most major drug and department stores.
Relationship Issues
Difficulties between the mother and father can greatly impact the extent of involvement a father has with his paternal child. If the relationship ended on a rocky note, the father may fear the confrontation of the child's mother and not feel as entitled to a relationship with that child. However, fathers are a very important part of a child's life and development and relationship issues should not stand in the way of this connection.
Children Need Their Fathers
Many do not realize just how important fathers are in a child's life. A recent survey conducted by Identigene shows that a majority of Americans feel there are many benefits to a child having their biological father in their lives. These benefits include: enhancing the child's self-esteem, providing the child with a masculine parental figure, and giving the child a sense of family and self. In fact, Dr. Taylor also points out that "Numerous studies show that children who do not have a father figure in their life are more likely to endure financial hardship, use drugs, quit school, or engage in criminal behavior."
Get an at Home DNA Paternity Test to Solidify the Connection with your Biological Child
Children need their biological father in their lives, no matter their age. There's tremendous value to the relationships they can build together and the relationships their families can build with one another. Recently, a man was united with his biological child after 44 years of separation. Learn more about this story here: Paternity Test Unites Father and Son after 44 Years
If you're not a part of your child's life, what is stopping you?
(Visited 353 times, 1 visits today)