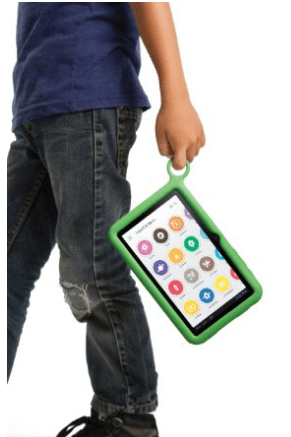 Kids of today are growing up in a tech-savvy environment, which presents an ideal opportunity for parents to leverage interactive content for their learning, development and social skills. University of Washington researchers conducted several studies and found out that interactive reading played an important role in the development of literacy skills. Also, it was important for expanding vocabularies and understanding of printed words among preschoolers and toddlers.
Another research study, conducted at the University of Wisconsin and presented at the Society for Research in Child Development, revealed that kids aged 2-3 were likely to interact with video screens that they can touch compared to screens that offered no interaction. The findings also suggested that the screen interface made the experience more familiar from the perspective of the children.
Additional benefits of interactive learning for children…
1.  Cooperation and team learning
Kids can learn how to cooperate and work in groups through educational gaming websites and interactive programs on television. Games and shows that assist in the promotion of helping behavior should be introduced to children such as Painting Animals and ABC for kids. The division of labor, face to face interaction and group processing will immensely aid the skill development process.
2.  Numeric skill development
Children who develop solid numeric skills early are better at budget management and financial decisions later on in life. Conventional teaching, in this case, can get monotonous for the kids, so a better approach is to let them learn counting and other numeric skills in real time. For example, LeapFrog offers a mini-game that teaches about addition, multiplication and number recognition. Children can clear balls from the track to advance at further levels by giving correct answers to the questions.
3.  Language skills
While teaching bilingual skills in early years is often off the agenda of the parents, it can prove to be the difference maker in the later years of life because most employers of today look for candidates with bilingual skills. Apps such as Teach Spanish for kids can be downloaded by parents on their smartphones and can be introduced to children.
Interactive Learning For Children At Home
The advancement of technology has made it easy for parents to connect their children with interactive tools directly at home. Service providers like AT&T, Comcast and Verizon are also giving parents a chance to save money on bundled packages as they look to install premium channels that broadcast educational shows for children. Verizon is really trying to reel in new customers with the promo codes for their FiOS service, so parents looking to save on interactive services should search for deals and make a quick decision because such offers expire quickly.
Apart from interactive online tools and television programs, parents can keep tabs on educational e-books, because they can download a variety at only a fraction of the cost of traditional books. Moreover, most modern offerings now include audible sound, so children find them more interesting and easy to relate to.
So the bottom line for parents: get access to interactive content at the most convenient place (home) and introduce children to educational tools and programs. This will allow children to continue their learning all year around and provide them enjoyment at the same time.
(Visited 220 times, 1 visits today)